Products meeting the search criteria
These study guides are written to compliment OnLine Training's RE004FL63 Florida Sales Associate Pre License course. They have been compiled to help you increase your chances of passing the course final exam. You should study the information for Test 1 for each of the units prior to taking Test 1. If you are taking Test 2 because you failed Test 1, then you should study the information in this guide for Test 2. You will have an option to view a PDF copy of the Combined Final Exams Study Guid..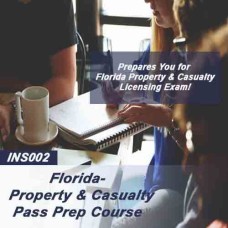 Taking this course will help you cram for your state Property & Casualty and General Lines exam. We designed our Property & Casualty Insurance Pass Prep and Cram course to help you study for your exams and build your confidence, thus reducing test anxiety.It uses the Redding Method (a question and answer model unique to OLT) and provides you only with the correct information. There are over 400 questions and 2,000 plus screens of information.Purchase this online General Li..
Showing 1 to 2 of 2 (1 Pages)