Products meeting the search criteria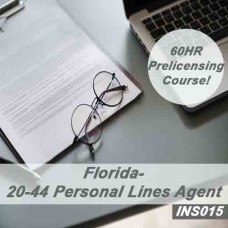 Buy this course - This is an entry-level course for insurance agents. After 1 year with this license, you can use a 40-hour conversion course to earn your 2-20 license. Take this 60-hour course then work one year (appointed by an agency) then take 40-hour conversion course and you don't have to take the 200-hour course to earn your 2-20 General Lines agent license. (Conversion course does not waive the state exam). This Florida-approved 20-44 Personal Lines 60-hour pre-licensing course inc..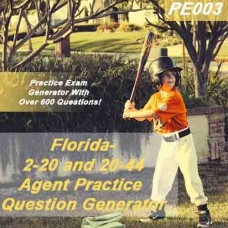 Practice Exam generator with over 600 questions! The Florida General Lines Agent (2-20) and the Personal Lines Agent (20-44) exams are very challenging. An in-depth knowledge of the material is essential. This Florida: 2-20 and 20-44 Agent Practice Question Generator course is based on the latest edition of the Florida General Lines Agent and Customer Representative Study Manual. You may want to use this course to review your knowledge of all sections of the manual or choose to concentrate on..
Showing 1 to 2 of 2 (1 Pages)