Products meeting the search criteria
With your Life, including Variable Annuity (2-14) license, you can be appointed by an insurer or Insurers to represent their company and sell life insurance and annuity contracts. You can also be the owner of your own insurance agency or become an agent for an agency.Life insurance agents are appointed to transact/sell life insurance, fixed-dollar annuity contracts, and variable contracts by the same insurer. Agents can also sell annuity contracts, including, but not limited to, fixed or variabl..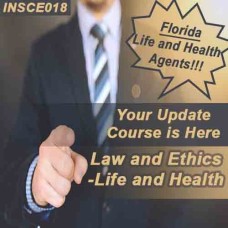 This class satisfies the requirement that 2-14, 2-15, and 2-40 Agents complete a 5-hour Law & Ethics update course every 2 years, which is specific to the license held by the licensee and covers industry law updates, premium discounts, ethics, disciplinary trends, industry trends, and suitability of insurance products. This online course is divided into 4 areas of study, including Regulatory Awareness, Insurance Laws and Updates, Ethical Requirements and Disciplinary and Industry Trend..
Showing 1 to 2 of 2 (1 Pages)